Takeaways from Anna Pacitto's Creative Process
September 5, 2023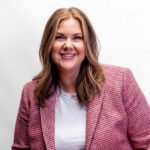 Kati Whitledge Brings Neuromarketing to the Beauty Biz
October 3, 2023
Karen Gordon is on a mission to build confidence around the hair loss conversation.
"Hair is the fabric we work with, and we need to have a cursory understanding of hair loss so we can engage in intelligent, factual conversations with our guests," she told ICA members at the Fall Atelier, "The Magic of Connection."
Gordon, a former salon owner and certified trichologist is also president of Karen Gordon Hair Loss Solutions. Last spring, she did a virtual presentation at ICA's Spring Gathering, which she followed up with an in-person presentation at the Fall Atelier in Chicago October 1-2.
The Hair Loss Conversation
Like their clients, many stylists are intimidated by the hair loss conversation, because they aren't sure how to help. Gordon took her audience through a series of common questions they hear from guests and gave them new talking points to share.
She also debunked some common hair loss myths that are simply not true. Some of the false information she corrected:
If you are shedding, you shouldn't shampoo too often because it will pull more hair out.
If you use Minoxidil/Rogaine you'll have to stay on it forever, because if you go off it, you'll lose more hair.
Hair loss always comes from the mother's side of the family.
Taking nutritional supplements can cure hair loss.
Gordon also said even if guests come armed with facts, they can often be misinformed.
"Some clients come to us with research, but the information they have doesn't always apply to the issue they are facing," she said. "Maybe they are attributing their hair loss to genetics, but they actually have a thyroid issue," she said.
Inspired to Educate
Gordon encouraged ICA members to return to their salons and appoint a hair loss liaison who can enroll in more advanced education around hair loss.
"Once you have someone who can engage in a better conversation, clients will come to you for treatment and remedy," she said. "There are great products out there, but we need to be the front line for people who need help."
Gordon offers certification in the Gordon method of hair and scalp analysis online that takes stylists through the seven most common hair loss issues they'll see in guests.
"It's a four-hour webinar where I take you through the consultation, start to finish," she says. Learn more about getting certified and how to help clients with hair loss here.
Interested in becoming an ICA member? Click here.